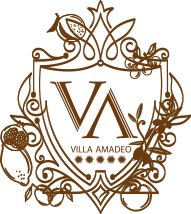 Pleasure never dies
because the memories remain.
A typi­cal Tusca­n villa, 5 star category, which we have renovated paying great attention to detail: environmentally friendly with a focus on regio­nal products.
Welcome to Villa Amadeo

Your holiday in the intimate circle of fami­ly and frien­ds­.
Our names are Cornelia, Catha­rina, Andreas und Werner and we have found the perfect place to relax and enjoy life – or to experience something new.
A warm welcome to all!
Let yourself sink into another world. Tuscany is bursting with history and stories, unspoiled nature and poetry, not to forget the incomparable scenery and very special people.
The difference is in the detail

This place is something to talk about.
Roman­ti­c spots, generous leisure ­rooms, comfortable seating ­areas under the loggias and on the terraces, a cosy fireplace, a flourishing garden, timeless olive groves, the finest food such as pizza from the wood-fired oven­, candlelight dinners or hearty barbecue evenings and, to make it perfect, plenty of sun, breathtaking countryside and time to relax by the pool or in a secluded spot.
Fruits of the Garden

Our 6 unique ­rooms are comfortable and inviting.
VILLA AMADEO has 6 double rooms, each with an individual theme. We have named them after the fruits which grow and flourish in our garden:
OLIVA – CILIEGIA – MELA­GRANA – LIMONE – SUSINA – PESCA
Each room has an en-suite bathroom with shower, toilet und bidet. A beauty mirror and a powerful hair drier are also provided. Each room has its own little outside seating area with a Tusca­n mosaic table.
La Taverna

For culinary treats and Tusca­n specialities.
cola­zione – cafe­teria – cucina – cantina – camera crea­tiva.
All these words apply to the pleasant, prac­ti­cal and indispensable central living area. This is the place to chat over breakfast, to cook and take meals, to play games or dance, to work or join in creative activities.
Celebrate special moments

The perfect place for special occasions.
VILLA AMADEO is not only a wonder­ful place for a holiday. It also provides an ideal setting for almost any occasion: special birthdays, jubi­lees, wedding parties as well as yoga groups and language or cookery courses. We are also equipped for special semi­nars.
The sky is the limit! There are countless reasons for a special – very personal – celebration week: a christening or confirmation, graduation, social group jubi­lees, an office party and many more. Maybe you'd like to celebrate your Silver Wedding by enjoying a week here with friends and family. We would be happy to organise a Tusca­n evening under the stars.
The charm of Tuscany

Get to know it and start planning.
There is a wealth of literature describing the beauty and diversity of Tuscany and its wonderful towns and villages, the places of interest and the treasures of the area. We can not do it justice here but have found informative links for you to use if you are interested:
The VILLA AMADEO Offer

Seasons and Prices.
Villa Amadeo opens its doors to this world of pleasure from March until November and for seasonal celebrations. We welcome everybody from those seeking quiet to the more active holidaymakers. Gour­mets, explorers, nature ­lovers and devotees of culture all find what they need. Guests can take part in the olive harvest, treat their fami­lies to an exclu­sive holiday or enjoy Tuscany's charm together with friends away from mass tourism.