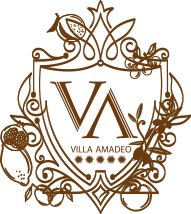 Follow our tips to ensure that booking, arrival and departure go smoothly
CHECK-IN:
Extras (to be paid in cash on-site):

Deposit: € 150,- per room, total € 900,- for 6 rooms (package deal)
Tourism tax: € 1,- per person and day (for visitors over 14 years)
Extra bed: € 200,- per week (2023) / € 280,- per week (2024)
Cot: € 50,- per week (2023) / € 70,- per week (2024)
BREAKFAST SERVICE:
There is a breakfast delivery service which comes at about 8:30 every morning – if an order  has been placed online by 18:00 the previous day (photo of order sent via WHATSAPP). A variety of breads, croissants, sandwiches and rolls, fruit salad, oran­ge juice etc. Make your choice, place your order the evening before and breakfast is delivered in the morning – fresh and convenient! The bill is paid in cash at the end of the week.
CHECK-OUT:
Final cleaning charge: € 420,- (2023) / € 480,- (2024) for all rooms
Additional cleaning charge for dogs € 100,- per week (dogs only allowed on request if package deal/ all rooms booked).
Cleaning service during the week can be aranged on request
A weekly change of towels and bed linen is included in the price. Should you wish for fresh towels more often, a small fee will be charged.
SPECIAL EVENINGS: If you wish to enjoy private dinners at VILLA AMADEO, our partners offer a wide choice: dinner service, barbecue evenings, pizza parties, pasta cooking show. Cooking demonstrations can be arranged individually on request. Please enquire well in advance: 

ciao@​villaamadeo.​com

.
General BOOKING information:
Each online booking starts with a reservation of the dates.
You then receive confirmation of the reservation and a demand for a down payment.
The reser­vation is valid for 5 days, by which time the payment must be made.
We charge 30% of the total booking price as a down payment.
If we receive the payment within 5 days, your reservation is automatically altered to a fixed booking.
The outstanding amount is to be paid at the latest 3 weeks before the date of arrival.
You will receive a reminder via e-mail 6 weeks beforehand.
When this payment has gone through, you will receive confirmation. Please bring this with you to Montaione to show when you check in.
All extras are to be paid for in cash: some when you check IN, others when you check OUT.
If payment is not made by the required date, the booking is no longer valid.
In this event, the down payment is non-refundable and will be withheld as a cancellation fee.