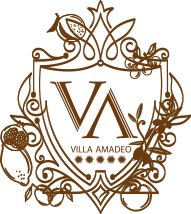 Montaione – in the heart of Tuscany
Villa Amadeo is situated close to the small town of MONTAIONE in the heart of the most colourful and picturesque region of Tuscany. It is perfectly situated for outings to all the famous places without long car journeys.
FLORENZ, SIENA, PISA, SAN GIMI­GNANO and VOLTERRA all lie within a 50 minute radius by car, 20 minutes more will take you to LUCCA und MONTE­CA­TINI. If you want to go to the sea, there are  beautiful beaches around CECINA MARE or further south. All these places are worth a day's visit and that is why a 2 week holiday really pays off.
Montaione itself has a well-preserved historic centre, many pleasant restaurants and attractive little shops. The ancient monastery of SAN VIVALDO is well known and so are the extensive nature park for walks and the little neighbouring town of GAMBASSI. The VIA FRAN­CI­GENA – a pilgrim's path, similar to The Way of St. James – has been rediscovered recently and leads through this area.
The district of  Montaione is made up of many smaller places.
Apart from the main town of MONTAIONE, these include: ALBERI, CASTEL­FALFI, IANO, MURA, SANTO STEFANO, SAN VIVALDO, SUGHERA and TONDA
Quite apart from the picturesque countryside around Montaione, there is also a satisfactory infrastructure:
a super­market a few hundred metres from the house
a modern and well-stocked chemist in the town centre
various bakeries, a butcher, a newspaper shop, a florist, a tobacconist and a greengrocer, all central
street market in Montaione every Friday, markets on other days in the neighbouring towns of Gambassi, Castel­fio­ren­tino, Certaldo, etc.
post office and banks
a cafe/bar in town selling delicious ice-cream
various restau­rants within walking distance – if anyone needs a little exercise after a lazy day sunbathing
an attractive old-style PUB, run for many years now by Valen­tino and his team
medical care available in the town, should it be needed
petrol stations and car repair services in the vicinity
This is sheer poetry! Admire the beauty of your holiday destination from a bird's eye view …
VILLA AMADEO is beautifully situated with a fantastic view of the Appennines, which are often still snow-capped in the spring. Although it is very close to the town of Montaione, it is sheltered by olive groves and vineyards and in the gardens of VILLA AMADEO the hustle and bustle of the town passes by unnoticed.
This is just the place for anyone wanting an extra-special holiday – right in the heart of Tuscany. On this map you can see just how central VILLA AMADEO is: