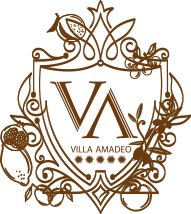 The way to the world of pleasure at Villa Amadeo.
So far, all the guests have been really enthusiastic about our house. The positive feedback that we have received has confirmed beyond doubt that Villa Amadeo has turned into a small paradise.
That makes us really proud!
Booking seasons and prices, the weeks with available accomodation at Villa Amadeo and all the details you need for a reservation will help you to plan well.
Early bookers have the freedom of choice, so do not wait too long if you have a definite date in mind.
Seasoned visitors to Tuscany always book – if possible – for 2 weeks.
Trying to combine a relaxing holiday with exploring the many places in this wonderful region is difficult and usually one thing or the other is neglected. Tuscany has such a large variety of fascinating places to visit: Florence, Pisa, Siena, San Gimi­gnano, Volterra, Monte­rig­gioni, San Miniato, Certaldo, Collodi, Vinci, Lucca, Arezzo, Radda, Greve, Gaiole, Laja­tico, Lari, and many more.
So allow plenty of time or come back again soon!
We are happy to give you tips and ideas for planning your trip!
We look forward to meeting you!