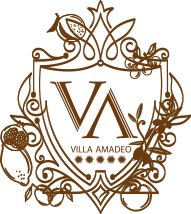 Celebrate special moments.
The perfect place for special occasions.
VILLA AMADEO is not only a wonderful place for a holiday.
It also provides an ideal setting for almost any occasion: special birthdays, jubi­lees, wedding parties
as well as yoga groups and language or cookery courses.
In addition, there are special weeks with interesting themes.
The sky is the limit! There are countless reasons for a special – very personal – celebration week: christening, confirmation, graduation, social group jubilees, firm parties and many more. Maybe you'd like to celebrate your Silver Wedding by enjoying a week here with your friends and family. We would be happy to organise a Tuscan evening under the stars.
We have partners to organise the catering and table service for a gala evening or a private dinner. They will also arrange for deco­ra­tions or (almost) anything else that your heart desires.
It is popular at the moment to celebrate romantic weddings in either a small circle of friends or with a big garden party. If this is the case, we are quite willing to organise a marquee – so that, if the worst comes to the worst, you don't get washed out.
VILLA AMADEO has already had bookings for a whole week to celebrate a round birthday. These days allow the host to devote time to each of his guests – never possible in the few hours when hosting a birthday dinner.
VILLA AMADEO can also be booked for artistic purposes: for a small orchestra or band to rehearse during the week or as a rehearsal venue for
a theatrical group. It offers plenty of scope for photography classes, landscape artists, dance groups and so much more.
Partners of VILLA AMADEO offer a wide range of special programmes. Tuscany is an impressive and unique setting, quite beautiful in any season. You can find the current offers and make bookings by clicking on Event-Partner.