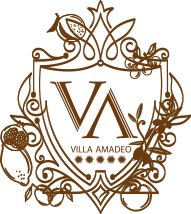 Sunset on the southern slopes
The panorama for your Aperi­tivo
Roman­ti­c spots, generous leisure rooms, comfortable seating areas under the loggias and on the terraces, a cosy fireplace, a flourishing garden, timeless olive groves, the finest food – such as pizza from the wood-fired oven, candlelight dinners or hearty barbecue evenings – and to make it perfect lots of sun,
breathtaking countryside and time to relax by the pool or in a secluded spot …
Especially for our guests:
VILLA AMADEO – newly renovated and extended 2018/19
6 AMADEO rooms with en-suite bathrooms
1 room is fully adapted for disabled access, a second suitable for limited mobility
doors connecting 2 x 2 rooms can be opened if required
all rooms with SAT-TV, minibar and safe
15×5 m Pool with comfortable sunbeds and large sunshades
pool lift for people with restricted mobility
high speed WIFI, also in the POOL area
air conditioning and heating
pool heated in cooler periods (between April and November)
large communal areas in and around the private "TAVERN"
communal kitchen with all necessary appliances and utensils
well-kept garden with large lawn for sunbathing
plenty of outdoor space and a stunning panorama
lounge-type furniture outdoors
and more:
pizza oven – to be used with assis­tance
(our service ­team prepares delicious pizzas)
many lovely spots to retreat and pass the time
welcome package with wine and locally produced olive oil
basket with POOL towels in each room and on request bathrobes
(we ask for a small deposit)
vegetable and herb garden- for the guests to use as they wish
washing machine, drier and iron
music system and large TV screen in the TAVERN
badminton, table ­tennis, billiards, table football, board games
children's play area
small library – books in various languages
guest services according to your needs
shaded parking spaces on the property
E-charging station for your electric car
chair lift, wheeled shower chair
orthopaedic bed and wheelchair available for hire
mosquito repellent – free­zanz
VILLA AMADEO would like to inform you about the newly-installed FREE-ZANZ-system. FREE­ZANZ means– "free of zanzare" – free of mosquitoes.
THE SYSTEM:
Special aromatic substances, strongly diluted with clean water (similar to the model of GLOBOLI) are sprayed at intervals.
IN THE GARDEN:
A network of thin hosepipes – similar to an irregation system – has been installed around VILLA AMADEO. The pipes are fitted with nebuliser nozzles which disperse these aromatic clouds of the  substances to repel the insects
Protected areas: swimming pool, lawn, pergola und Hollywood swing, all terraced areas around the tavern and outside the rooms, all loggias. In short, all outdoor areas which the different kinds of mosquito regard as their "territory" – and we know from experience how extremely distressing that can be for the guests.
TIMES OF OPERATION:
The FREE-ZANZ system is,of course, only in use at times when it is necessary.
HARMLESS:
The system has been successfully tested over a period of years in hotel grounds, in restau­rant gardens, in hospital grounds, schools and kindergartens and so on. The vapours are dispersed in very small amounts for short periods of time at regular intervals throughout the day.
SUPPORT:
All our guests can help us to ensure that the system works efficiently. Please do not hang bathing towels or clothes over the wooden fence surrounding the POOL or on the LAWN. Please also avoid treading on the thin hosepipes and do not adjust the nebuliser nozzles. In this way, the maximum effect can be attained.