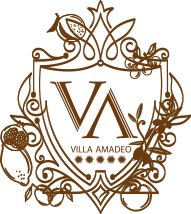 Villa Amadeo
Our names are Cornelia, Catha­rina, Andreas and Werner and we have found the perfect place to relax and enjoy life – or to experience something new.
Dear visitors to the world of pleasure that is Villa Amadeo!
A warm welcome to you all!
Let yourself sink into another world. Tuscany is bursting with history and stories, unspoiled nature and poetry, not to forget the incomparable scenery and very special people.
We weren't looking for this house – it found us. While we were on holiday, we drove around the countryside spontaneously to take a look at what was on the market.
Our house? It wasn't on the viewing schedule – we just happened to notice it – and it left a lasting impression ….
Everything started moving in May 2017– roughly 180 years after the first stone was laid for the original building. Hours, days and weeks of negotiations followed, always thinking and talking about it, planning and calculating costs until, in the early summer of 2018, it was settled – We are Villa Amadeo!
Many dear local people have helped us along the way. Serena, Alice and Luigi from the estate agency and Ales­sandra, Andrea and Rita from the neighbouring town Gambassi, all of whom have in the meantime become friends: Emma and Valerio in their wonderful little anti­que shop­, without whom we would never have found our caretaker couple, "San" Adriano with his sons Mirko und Simone as well as Mauro, who are always there when we need them, Simone and Mauro, Paolo and Fran­cesco, Gianni, Giacomo, Valen­tino and many more.
Alterations and renovations got underway in September 2018 with the goal of reopening in new splendour in June 2019 …opening the doors to the world of pleasure that is Villa Amadeo.
One thing makes us particularly proud: we decided to run Villa Amadeo as a business sustainable for the future and to fulfil all the necessary requirements. This meant saying goodbye to a purely economical approach and investing wherever we could in saving resources and finding solutions compatible with nature.
80 m² of solar panels produce up to 18 kw of clean electricity, won from the source which gives us so many enjoyable hours in our free time and on holiday – so even the air-conditioning is "organic"! This applies also to the warm ­water supply­ and – in cooler months – the heating of both house and pool.
As one would expect, we irrigate the entire garden with water from our own three wells. Should the wells run dry, we have the back-up of rainwater in tanks which collect an additional 170.000 litres.
To complete the ecological concept we use a fully ­bio­lo­gi­cal wastewater treatment plant and the cultivation of the olive groves, orchards and vegetable plots is completely organic.
We have also paid special attention to detail in every aspect: in the rooms of the villa, in the tavern and in the garden­s.
The speci­al ­pro­grammes on offer are unusual and varied. Our choice of independent partners has led to a wide range of topics being on offer, mainly in the quieter periods. However, the programmes take place throughout the whole year so it is worth receiving our News­letter for the latest information.
Cinzia und Andrea, a lovely couple from Montaione, are here to welcome and look after our guests and, if you are interested, they will cook for you too.
We are sometimes here in our private holiday flat in Villa Amadeo to look after the guests personally and to take care of some of the many necessary tasks: gardening, picking and processing more than 20 sorts of fruit or harvesting the olives with the help of family and friends. As the garden covers more than 20.000 m² there is plenty of space for everybody to find a private, secluded corner or to relax by the pool. The only thing we share with the guests is the swimming pool itself.
We wish you an immensely enjoyable and unforgettable stay!
Saluti e a presto,
Cornelia – Catha­rina – Andreas – Werner